Introducing the latest technologies being researched and developed at KIOXIA Corporation and various use cases of flash memories.
Ferroelectric MOS transistors using HfO2 as the dielectric and Si as the current path have been widely researched and developed for memory applications including AI applications. Kioxia has fabricated a prototype ferroelectric Field Effect Transistor (FET) using TiO2 as the current path and demonstrated high-speed, low-voltage operation and high cycle endurance. This achievement received the Best Contributed Paper Award at the international conference EDTM2023.

Selector devices are key components for next-generation high-density memory cell arrays. In this work, the reliability of selector devices has been studied in collaboration with imec, the world-leading R&D center in electronics technologies. The mechanism of the cycling-dependent threshold voltage instability has been clarified by combining electrical characterization and modeling techniques. These results were presented at the international conference IEDM2022.

As the demand for larger memory capacities has rapidly increased, a high etch rate for a high aspect ratio structure is significantly required for high productivity. We have modeled ion-induce surface reactions and developed a simulation technique for predicting the optimal ion species for the etching process of the memory hole because ion species play a dominant role in high aspect ratio etching.

In 3D LSI, transistors are formed on polysilicon. The formation of defect-free polysilicon is important for high performance transistors. To establish the formation process, we improved the conventional electron microscope technology and observed the growth process of crystal grains on an atomic scale in real time.

Large program/erase window, tight Vth distributions and superior data retention characteristics, which were essential to achieve multiple bits per cell, realized by optimizing read operation and FG structures in split-gate cells.

We successfully demonstrated the world's first 7-bit per cell by combining 77K cryogenic operation with silicon process technology that can improve memory cell characteristics.

HfO2-FeFETs is a strong candidate for next-generation memory. In HfO2-FeFETs memory the difference between "0" and "1" decreases after repeated write and erase operations. This cycle degradation, which remained largely unknown, has been clarified by high-speed charge center analysis. This achievement is expected to advance the practical application of HfO2-FeFET memory. These results were presented at the international conference IEDM2021.

With the growth of the quantum computing and high performance computing, there are increasing demands for the computer systems and electrical components that can operate at relatively low temperature. It has been reported that the characteristics of several types of semiconductor devices can be improved by cryogenic temperature. This report is the first to introduce a cryogenic operation and characteristics of 3D Flash memory at 77 K immerged in the liquid nitrogen.

OS-FET with both high thermal stability and high on-current can be realized by optimizing F amount in IGZO:F. These results are fundamental technologies to realize new memory devices with large amounts of storage, low latency, and ultralow-power consumption, which cannot be achieved by silicon-based FETs.

Recently, ferroelectric memories using ferroelectric-HfO2 film have attracted much attention towards low-power and high-density in-memory computing for AI (artificial intelligence).

BiCS FLASH™ can increase its memory density and reduce the product cost by increasing the number of word line (WL) layers. The thyristor structure is one of the promising candidates to obtain a large read current even the number of stacked layers is increased.

A challenge of OS-transistor development is improvement of its thermal stability. By using InGaZnO (IGZO) which is a conventional OS, the OS transistor does not work properly by thermal processes required in manufacturing process of the memory device.
In order to overcome this issue, we have newly proposed InAlZnO (IAZO) as an OS material with high thermal stability.

By applying MILC(Metal-induced Lateral Crystallization) technology to Si film in the vertical memory holes, we successfully fabricated the formation of monocrystalline Si from amorphous Si via nickel silicide.
The 3D flash memory cell devices equipped with this technology demonstrated superior electrical characteristics and reduced variation compared to conventional devices using poly-Si as the channel.

Three-dimensional (3D) semicircular split-gate flash memory cells have been successfully developed for the first time.

The challenge for achieving terabit-scale cross-point memory is to reduce operation current of a memory cell.
As a solution, we focused on a new non-volatile memory; Ag ionic memory.

We have established a brand-new evaluation method for nanomaterials by applying the state-of-the-art semiconductor fabrication process.

Memory devices that require new materials and complex 3D structures.

We propose new memory cell technologies to realize even higher bit density file memories, as well as various high-speed nonvolatile memories.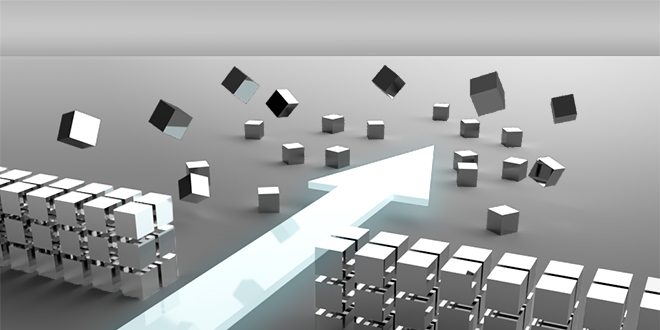 Conducts advanced research and development, application system development, and development prototyping in the field of memory including emerging memory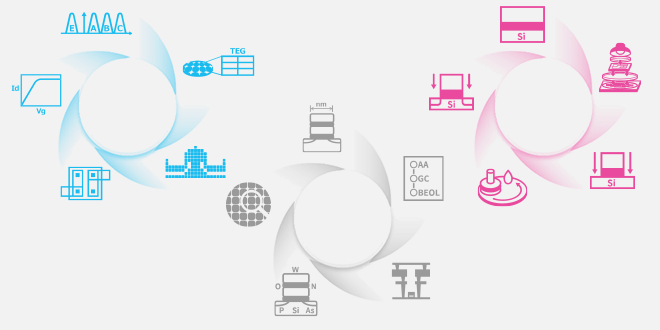 Conducts R&D on BiCS FLASH™, a type of 3D flash memory that KIOXIA was the first to develop in the world, while serving as a bridge between R&D and volume production.