Emerging Memory Development
We are in the process of developing new memory technologies in order to widen our product portfolio and expand our business. We propose new memory cell technologies to realize even higher bit density file memories, as well as various high-speed nonvolatile memories. For example, we have demonstrated STT-MRAM technology*1 and ReRAM technology*2 with the highest density as of the time of publication*3. As advanced device, process and circuit technologies need to achieve memories with new structures and new materials. We are challenging ourselves with new tasks on a daily basis.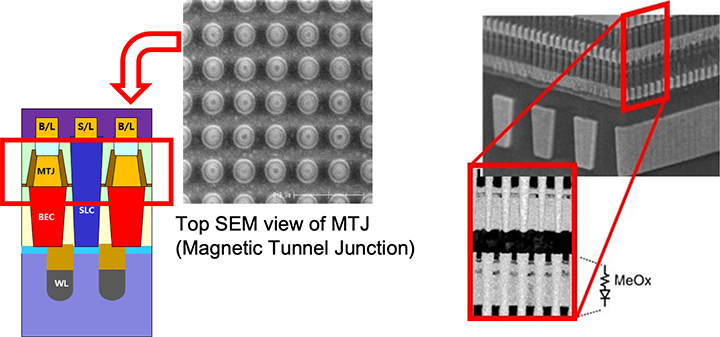 Spin Transfer Torque Random Access Memory
(We presented 4Gbit STT-MRAM technology at IEDM with SK-hynix in 2016.)
Resistive Random Access Memory
(We presented 32Gbit ReRAM technology at ISSCC with SanDisk in 2013.)
Figures according to our research.