Message from the General Manager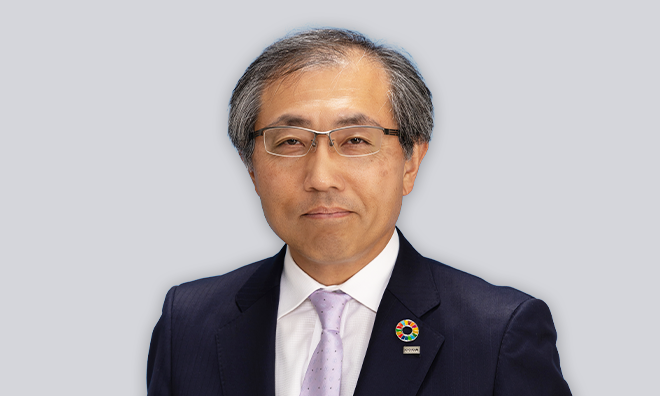 KIOXIA Yokkaichi Plant celebrates its 30th anniversary.
Yokkaichi plant was established in 1992 as a semiconductor memory manufacturing facility, and this year we celebrated our 30th anniversary. The plant initially manufactured DRAMs, then in 2002 it commenced the production of NAND flash memory. It currently manufactures mainly 3D flash memory. The site continues to expand as the market grows, and is now one of the largest flash memory plants in the world, with six manufacturing facilities. We have also strengthened the research and development of next-generation semiconductor devices, with the Memory R&D Center commencing operations in 2018. In addition, later this year we will start operation of Fab7, a state-of-the-art manufacturing facility. We continue to evolve with the aim of becoming the world's most advanced semiconductor memory plant, where research, development and production work together.
In October 2019, we changed our company name to "KIOXIA", and restated our mission as "Uplifting the World with 'Memory.'" We hope that our flash memory will play an important role in storing ever-increasing amounts of information and that this information will thereby be passed on to future generations.
Yokkaichi in Japan's Mie prefecture is blessed with a rich natural environment, abundant human resources, and an outstanding industrial base. We are deeply grateful to local residents and all other people for their understanding and support, which has enabled us to grow our business globally.
We will continue to prioritize environmental protection and social initiatives, thus fulfilling expectations regarding our corporate responsibility. We will endeavor to help realize a better global environment and contribute to the development of sustainable society. Our aim is to make Yokkaichi Plant a facility that is admired and trusted by everyone. We look forward to your continued understanding and support.
April 2022
Tomoharu Matsushita
Managing Executive Officer of KIOXIA Corporation and General Manager of Yokkaichi Plant