Occupational Health and Security Initiatives
Yokkaichi Plant is focused on tangible and intangible measures designed to protect the safety and security of employees and local communities, and the uninterrupted supply of our products. We are also committed to providing all necessary training and drills in order to ensure these measures are properly implemented.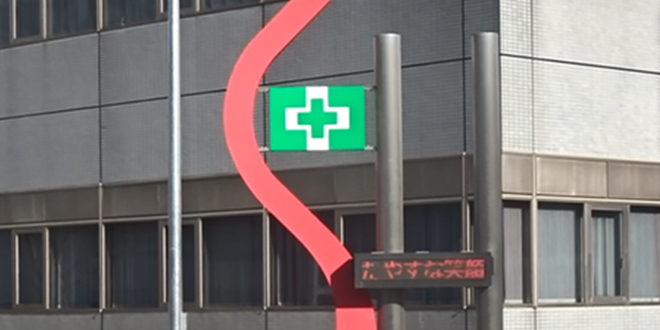 Occupational Health and Safety
For Safety and Health in Work Environment
KIOXIA Group supports the occupational health and safety of our employees to realize safe and comfortable work environments where each and every one of them can thrive.
KIOXIA Yokkaichi Plant's OHS Policy was formulated following the declaration by senior management of its commitment to OHS, with the goal of having all employees embrace the same commitment.
KOIXIA Group acquired occupational health and safety management systems certification (ISO 45001:2018) in January 2022. This system enables us to identify and assess organizational health and safety issues, raise the profile of these, and make continuous improvements in order to reduce the risk of non-compliance with relevant legislation.
Evaluation by External Parties
On July 7, 2020, the Yokkaichi Plant was certified as a business site that actively promotes employee health management with the aim of realizing "Tokowaka Mie," Mie Prefecture's vision of a community where everyone lives a healthy life. We have established the THP (Total Health Promotion Plan) and MHP (Mental Health Promotion Plan) Committee for the planning and implementation of health programs.
We will continue to promote healthy activities that all employees can continually enjoy so that they can work vigorously, both physically and mentally.
Preparations for Earthquakes
Fab 4 completed in September 2007 and all the fabs constructed thereafter are equipped with a state-of-the-art base isolation system that reduces the peak floor acceleration during an earthquake to roughly one-fourth.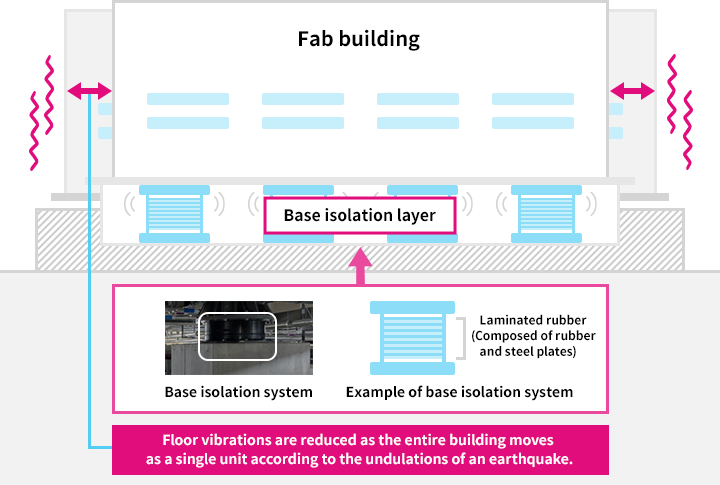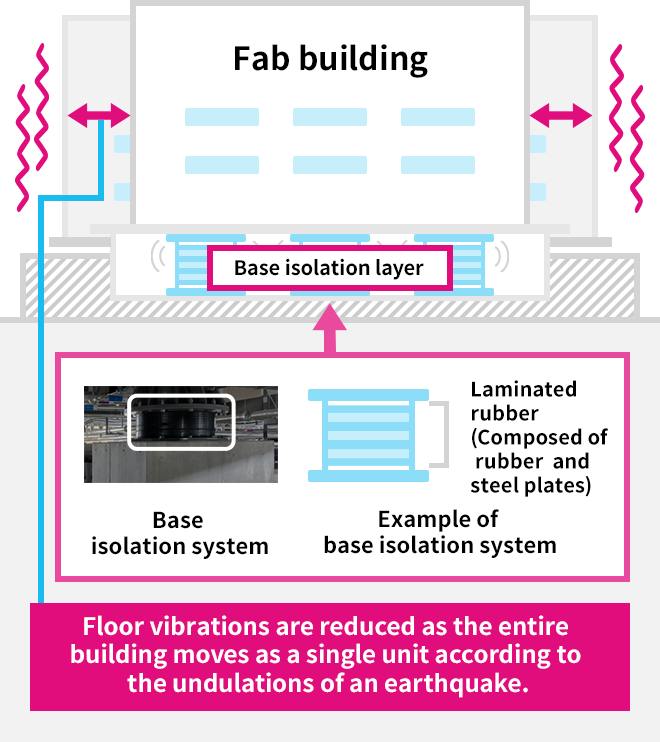 Earthquake Early Warning (EEW) System
The EEW system detects the P (primary) waves before the arrival of more damaging S (secondary) waves in order to estimate the arrival time of the S waves and the seismic intensity within a few seconds. In response to a warning, a safety system automatically shuts down the fab equipment and announces the oncoming earthquake in order to mitigate property damage and protect employees' safety.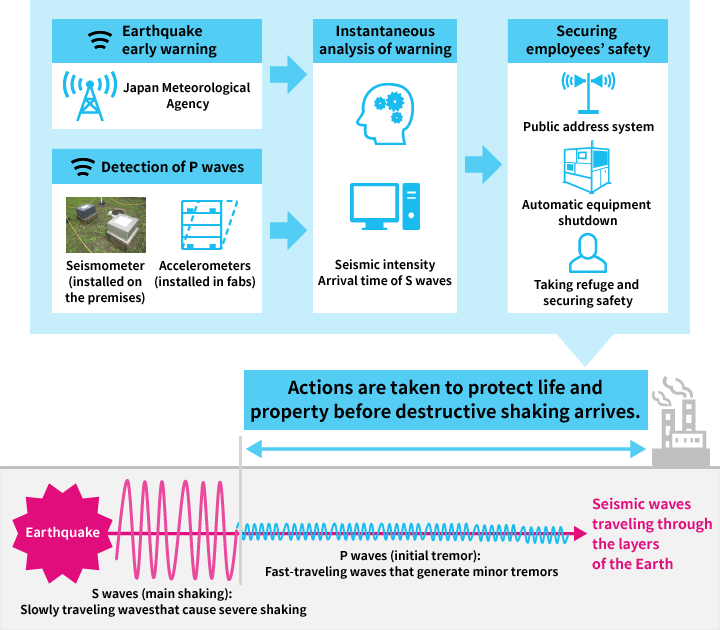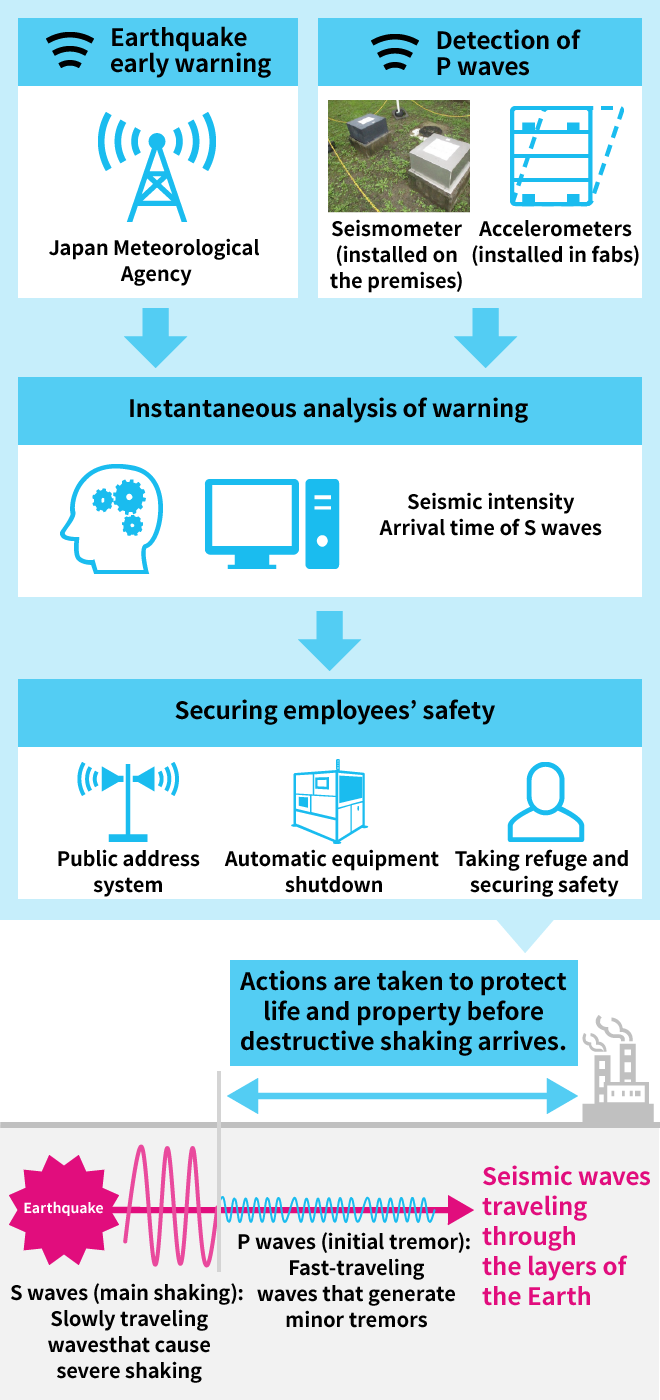 Anti-seismic measures for equipment
In order to prevent secondary accidents, all the systems and equipment in the fab are firmly secured to the floor in accordance with stringent in-house standards.
Some of the various safety measures in place are shown below.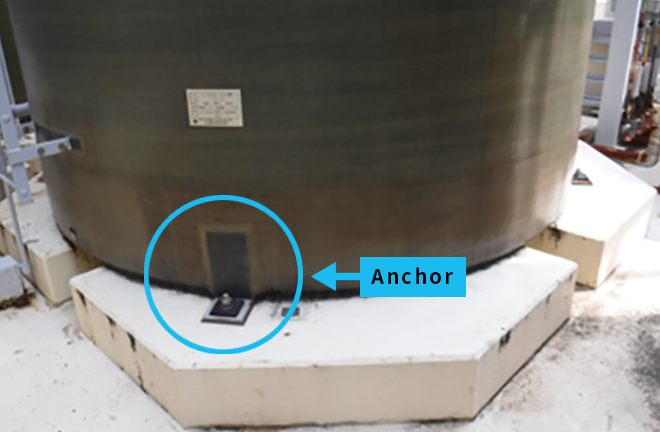 Employee safety confirmation system
In the event of a disaster, an online system automatically contacts all the employees to check their safety.
This system uses multiple means of communication to reach all employees promptly.
Emergency supplies storerooms
We have many storerooms for emergency supplies inside Yokkaichi Plant. Water, food, first-aid supplies, and other items are stocked in readiness for a major disaster.
Preparations for Power Outage
Protection for instantaneous voltage dips (IVDs)
We have various IVD compensators in place in order to prevent critical process interruptions.
An IVD compensator, which incorporates batteries, electric double-layer capacitors and superconducting coils to store electric energy, releases it in the event of an instantaneous voltage dip.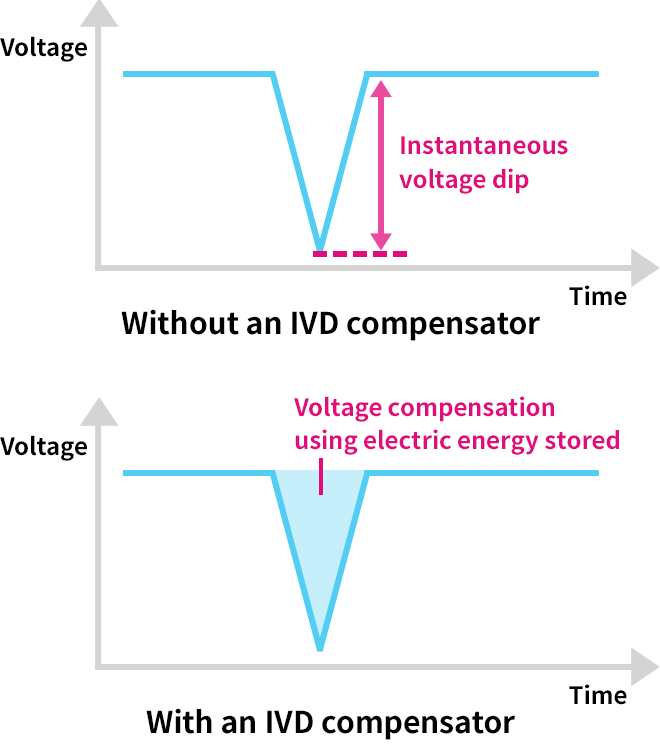 1. Uninterruptible power supplies (UPS)
A UPS, which stores electric energy in batteries, provides emergency power for a certain period.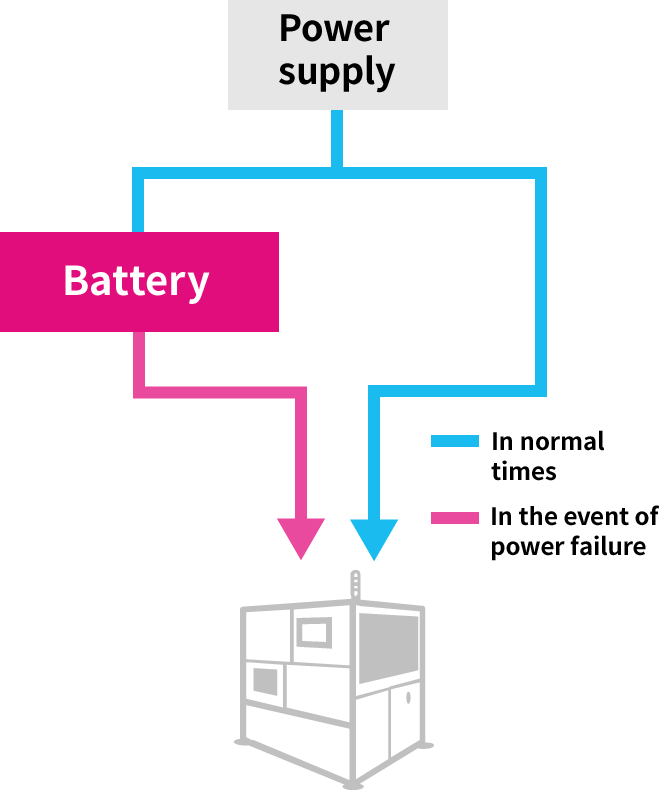 2. Superconducting magnetic energy storage (SMES)
An SMES system stores energy in the magnetic field created by a superconducting coil.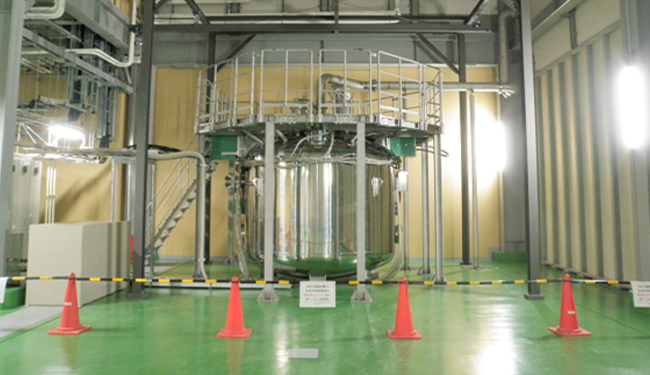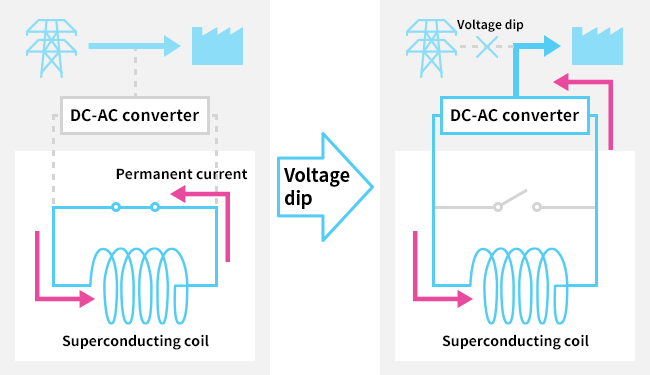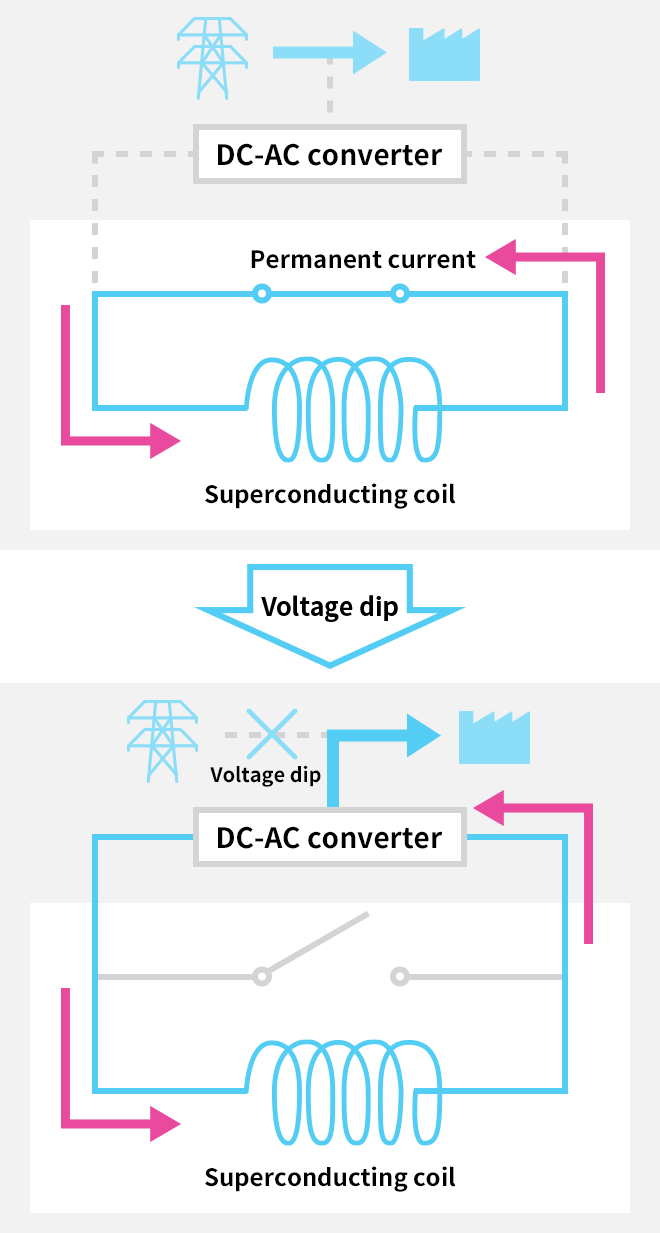 3. Electric double-layer capacitors (EDLCs)
An EDLC stores electric energy in a capacitor.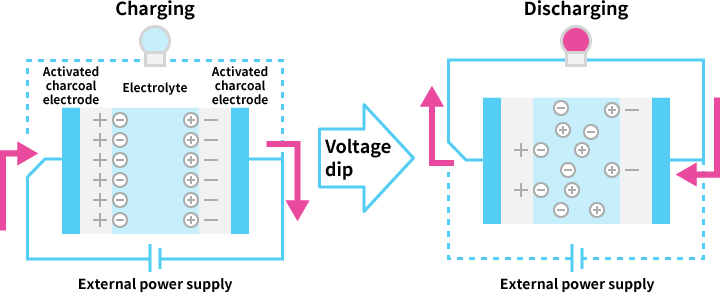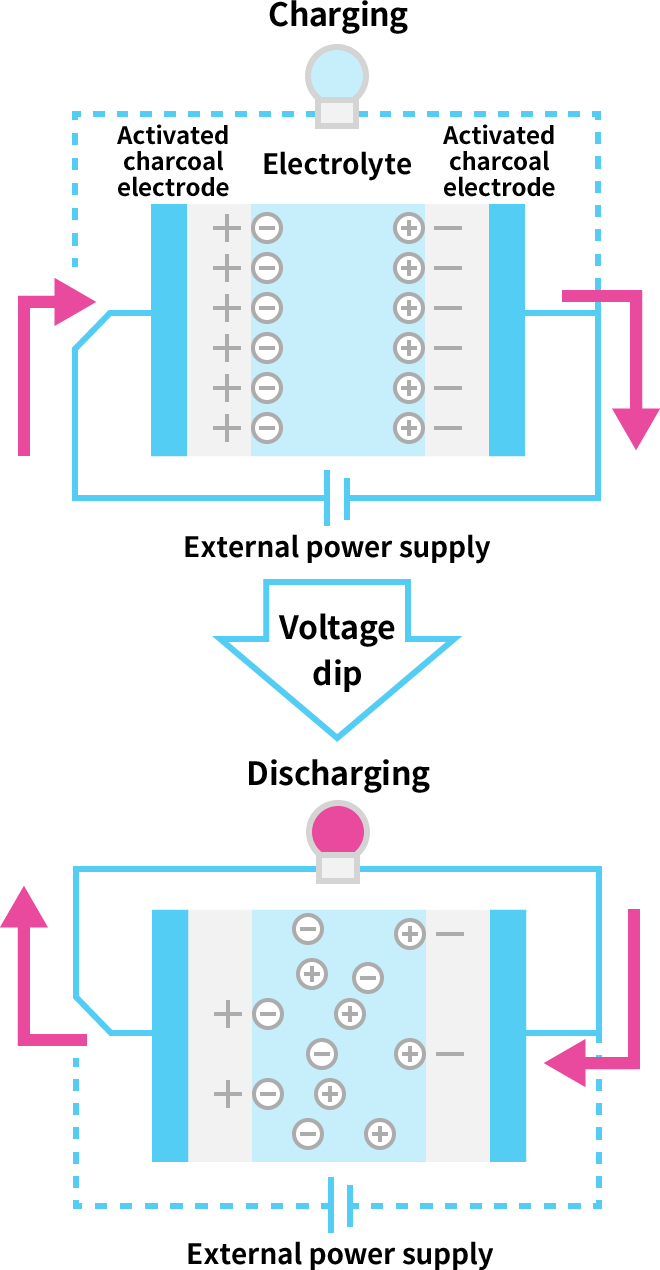 Preparations for power outage
Yokkaichi Plant is equipped with emergency generators. The emergency generator automatically starts in the event of power failure. It acts as a backup power source for the operation of safety-related facilities as well as for the safe shutdown of fab equipment.
The emergency generator incorporates a diesel engine to generate electric energy.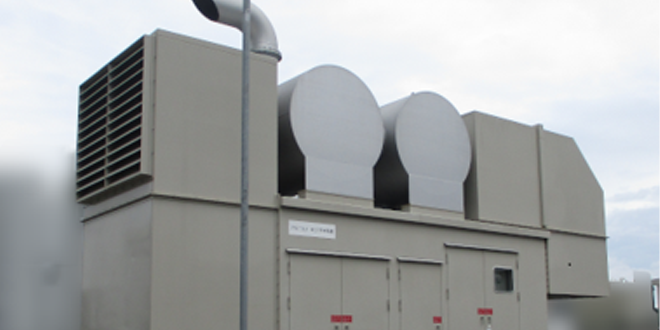 Ultrahigh sensitive smoke detector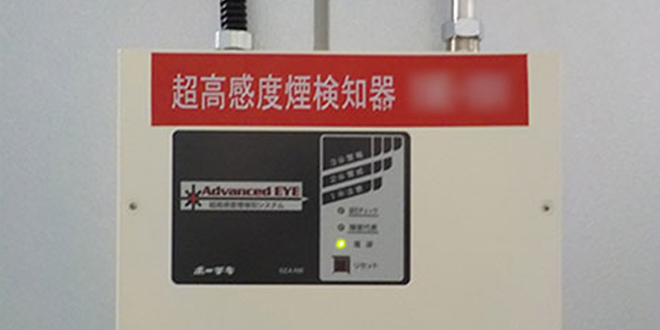 Ultrahigh sensitive smoke detectors are installed in the cleanrooms. These smoke detectors detect smoldering fires from electric wiring and equipment at an early stage.
Deployment of a fire engine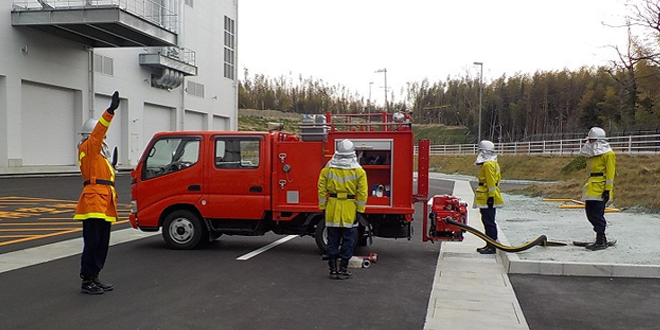 To extinguish a fire at an early stage, Yokkaichi Plant owns a fire engine.
Safety Measures for High-Pressure Gas
Yokkaichi Plant continues to promote safety measures related to production, storage, and consumption of high-pressure gas.
High-pressure gas safety management
Yokkaichi Plant promotes safety measures by implementing safety reviews when installing equipment and safety inspection.
We have established the high-pressure gas safety management structure to control the facilities where high pressure gases are used.
High-pressure gas safety controller
Deputy for high-pressure gas safety controller
Supervisory safety worker
Specific high-pressure gas operation safety chief
Safety technical manager
Operational manager
We periodically hold emergency drills at the facilities where high-pressure gases are used and provide employees with safety education.
Safety technical skills enhancement
It is important to operate safely the facilities where high-pressure gases are used. At Yokkaichi Plant, employees who operate those facilities are provided with compliance education to enhance the technical skills.
Safety inspections/periodical self inspections
Yokkaichi Plant conducts safety and visual inspections periodically to keep the condition of high-pressure gas facilities as per legal requirements.
Working with Regional Governments
Yokkaichi Plant has a disaster prevention agreement with Yokkaichi City not only to prevent accidents, fires, and other disasters at the plant but also to secure the safety of the local community.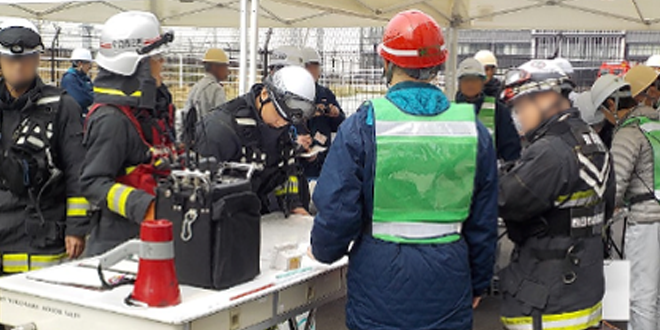 1. A joint safety drills with the local fire department; the countermeasure office inspects the damage situation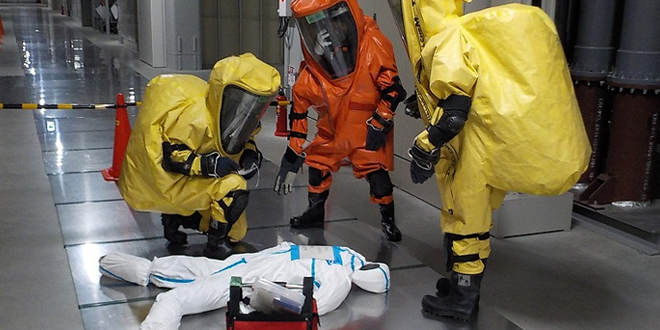 2. A chemical-spill rescue drill, using chemical protective clothing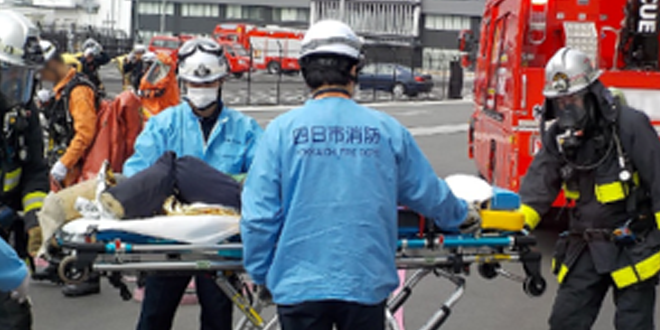 3. An emergency transportation drill