Institute of Memory Technology Research and Development
The Institute of Memory Technology Research and Development is engaged in the development of device and circuit technologies for next-generation nonvolatile memory, as well as process and next-generation lithography technology. While exploring new principles of operation and device structures, it is developing new types of memory that are attracting lots of attention as next-generation storage class memory (SCM) and system technology , and so as to cultivate new products and markets. It also researches a state-of-the-art digital transformation technology such as Machine Learning and develops the system foundation and expands it as the "smart factory" to our operations.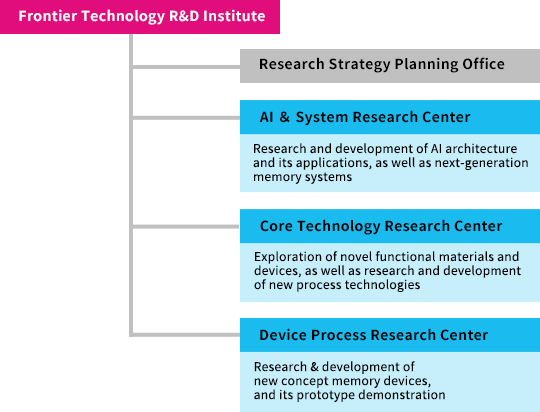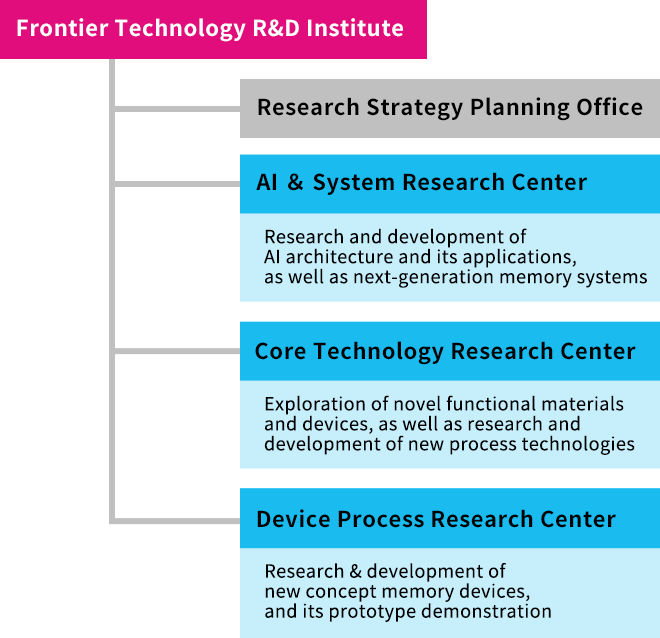 Device Technology Research & Development Center
In order to realize the most advanced memory products, it is necessary to develop new memory cell materials, structures, and devices such as transistors to operate peripheral circuits, as well as process integration technology, circuit design technology and TCAD technology.
The Device Technology Research & Development Center develops these technologies and utilizes them to develop next-generation file memory with even higher density or new nonvolatile memories such as storage-class memory. It also develops simulation programs and applies them to actual devices. It creates the concepts of brand-new memories and develops memory circuit design technology based on the concepts and designs prototype products. It also performs fundamental research of materials and structures for new memories that have yet to see the light of day, based on new concepts and physical phenomena, with a 10-year time horizon.
We developed a recovery annealing technology applicable to 7-bit per cell flash memory operating at cryogenic temperatures. The technology can contribute to the realization of a sustainable society through future bit cost scaling and extended chip life.

We have successfully demonstrated the preparation of ferromagnetic Co thin layers showing the current-induced domain wall motion (CIDWM), by using atomic layer deposition technique which is widely utilized in the three-dimensional LSI technologies. CIDWM is the key physical phenomenon for race-track memory[1]. This result was presented in the international conference, IEEE INTERMAG 2023[2].
Process Technology Research & Development Center
In order to fabricate the most advanced semiconductor devices, many process steps must be repeated that utilize the most advanced chemistry and physics. The Process Technology Research & Development Center performs R&D of deposition technology of new-material films required for the next-generation memories, new pattering technology such as NGL (next-generation lithography), mask technology, dry or wet etching technology to process new materials, deep holes and complicated structures, low-resistance metal wiring technology for high-speed memories, metrology and analysis technologies for new materials and new structures, manufacturing technology to realize them, and test production of advanced devices.
By establishing the core competence of memory technology by new processes, the Process Technology Research & Development Center aims to create valuable foundation processes, process technology that enhances the competitiveness of memory products, and transfer the process technologies to mass-production engineering departments and factories through horizontal deployment and deep cultivation.
3D patterning is a unique feature of Nanoimprint lithography (NIL). We have studied fabrication of 3D dual-damascene structure using NIL. By optimizing the resist material, template structure, NIL conditions, and etching conditions, respectively, we succeeded in fabricating 3D dual-damascene structure with L/S=4X/4Xnm.

Two design constraints are introduced to improve process margin of Ultraviolet nanoimprint lithography. One is for NIL alignment mark design rule and the other is for pattern coverage rule with wafer topography.
System Technology Research & Development Center
In view of the information explosion, innovation of data-centric computing systems is required in order to handle large amounts of data.
Considering new applications and markets, the System Technology Research & Development Center takes charge of R&D of software, hardware, and system technologies, taking account of leading-edge computing and data processing such as storage computing that utilizes storage systems and near-memory computing. From the system perspective, it researches how to make full use of memories and promotes R&D of fundamental technologies related to storage systems and memory systems incorporating high-value-added, next-generation memories. It is also making a concerted effort to develop application technology of AI and machine learning to support optimized and efficient circuit design or memory manufacturing, hardware technology of deep learning, interface technology that connects devices at ultra-high speed, and AI technology itself.
The erase operation of flash memory is one of the causes of performance degradation in SSDs. We have developed an efficient erase technology for low-latency flash memory-based SSDs and achieved a significant performance improvement in a database application evaluation.

Locality Sensitive Hashing (LSH) is an approximate nearest neighbor search method widely used for big data search and retrieval. By effectively introducing flash memory and developing a new algorithm, we have improved LSH and achieved significant performance improvement by reducing the overhead of computation and external storage access without increasing the main memory.
Digital Transformation Technology Research & Development Center
The Digital Transformation Technology Research & Development Center researches cutting-edge digital technologies such as machine learning, constructs system platforms, and aims to realize smart factories incorporating cloud, big-data, IoT, and other advanced technologies.
Its targets are device structure and circuit parameter optimization to develop cutting-edge memories, mainly 3D BiCS FLASH™ and centralized control for manufacturing machines and so on.
To meet the global demand for flash memories, it also promotes R&D of sophisticated automatic production systems, absolute yield analysis, and quality control in process.
To maintain high quality in our flash memory production, more than two billion data items are collected every day in real time from manufacturing equipments and transport systems. Complicated factory analyses are performed using such an enormous amount of data.

State-of-the-art semiconductor manufacturing requires highly accurate defect inspection even if the defects are very small. We are developing a new inspection technique utilizing not only conventional image processing but also machine learning.