Institute of Memory Technology Research and Development
The Institute of Memory Technology Research and Development is engaged in the development of device and circuit technologies for next-generation nonvolatile memory, as well as process and next-generation lithography technology. While exploring new principles of operation and device structures, it is developing new types of memory that are attracting lots of attention as next-generation storage class memory (SCM) and system technology , and so as to cultivate new products and markets. It also researches a state-of-the-art digital transformation technology such as Machine Learning and develops the system foundation and expands it as the "smart factory" to our operations.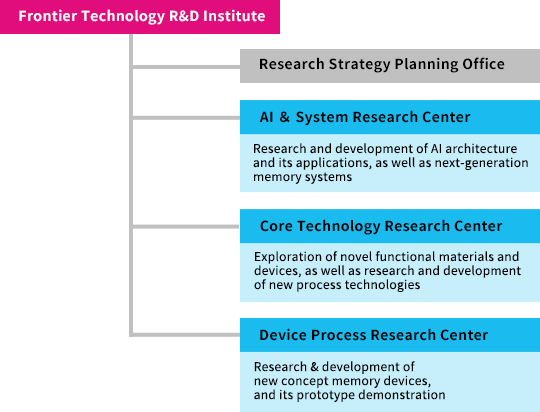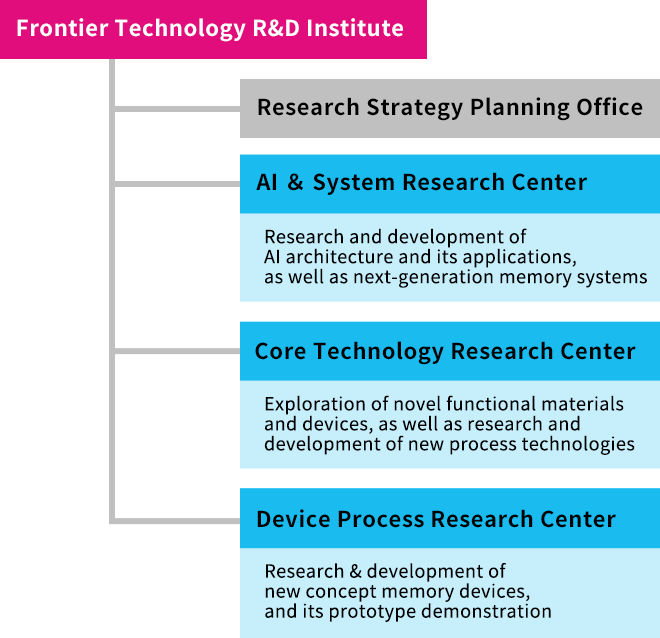 Device Technology Research & Development Center
In order to realize the most advanced memory products, it is necessary to develop new memory cell materials, structures, and devices such as transistors to operate peripheral circuits, as well as process integration technology, circuit design technology and TCAD technology.
The Device Technology Research & Development Center develops these technologies and utilizes them to develop next-generation file memory with even higher density or new nonvolatile memories such as storage-class memory. It also develops simulation programs and applies them to actual devices. It creates the concepts of brand-new memories and develops memory circuit design technology based on the concepts and designs prototype products. It also performs fundamental research of materials and structures for new memories that have yet to see the light of day, based on new concepts and physical phenomena, with a 10-year time horizon.
Selector devices are key components for next-generation high-density memory cell arrays. In this work, the reliability of selector devices has been studied in collaboration with imec, the world-leading R&D center in electronics technologies. The mechanism of the cycling-dependent threshold voltage instability has been clarified by combining electrical characterization and modeling techniques. These results were presented at the international conference IEDM2022.

As the demand for larger memory capacities has rapidly increased, a high etch rate for a high aspect ratio structure is significantly required for high productivity. We have modeled ion-induce surface reactions and developed a simulation technique for predicting the optimal ion species for the etching process of the memory hole because ion species play a dominant role in high aspect ratio etching.
Process Technology Research & Development Center
In order to fabricate the most advanced semiconductor devices, many process steps must be repeated that utilize the most advanced chemistry and physics. The Process Technology Research & Development Center performs R&D of deposition technology of new-material films required for the next-generation memories, new pattering technology such as NGL (next-generation lithography), mask technology, dry or wet etching technology to process new materials, deep holes and complicated structures, low-resistance metal wiring technology for high-speed memories, metrology and analysis technologies for new materials and new structures, manufacturing technology to realize them, and test production of advanced devices.
By establishing the core competence of memory technology by new processes, the Process Technology Research & Development Center aims to create valuable foundation processes, process technology that enhances the competitiveness of memory products, and transfer the process technologies to mass-production engineering departments and factories through horizontal deployment and deep cultivation.
Two design constraints are introduced to improve process margin of Ultraviolet nanoimprint lithography. One is for NIL alignment mark design rule and the other is for pattern coverage rule with wafer topography.

The accuracy of alignment with the underlying layer in UV nanoimprint lithography has been improved by using a method of making separate alignment marks. This enables the practical realization of low-cost patterning with a half-pitch of 14 nm in a single patterning step, which is impossible by optical lithography.
System Technology Research & Development Center
In view of the information explosion, innovation of data-centric computing systems is required in order to handle large amounts of data.
Considering new applications and markets, the System Technology Research & Development Center takes charge of R&D of software, hardware, and system technologies, taking account of leading-edge computing and data processing such as storage computing that utilizes storage systems and near-memory computing. From the system perspective, it researches how to make full use of memories and promotes R&D of fundamental technologies related to storage systems and memory systems incorporating high-value-added, next-generation memories. It is also making a concerted effort to develop application technology of AI and machine learning to support optimized and efficient circuit design or memory manufacturing, hardware technology of deep learning, interface technology that connects devices at ultra-high speed, and AI technology itself.
We developed a Memory-Centric AI-based image classification system that utilizes high-capacity storage to enable knowledge expansion while avoiding catastrophic forgetting. It improves explainability of AI by retaining the reference images used for classification.

We developed the technique for avoiding false-lock points induced by PAM4 signaling by switching the comparator mode between NRZ mode and PAM4 mode according to the state of the CDR operation, and confirmed the effectiveness of proposed technique.
Digital Transformation Technology Research & Development Center
The Digital Transformation Technology Research & Development Center researches cutting-edge digital technologies such as machine learning, constructs system platforms, and aims to realize smart factories incorporating cloud, big-data, IoT, and other advanced technologies.
Its targets are device structure and circuit parameter optimization to develop cutting-edge memories, mainly 3D BiCS FLASH™ and centralized control for manufacturing machines and so on.
To meet the global demand for flash memories, it also promotes R&D of sophisticated automatic production systems, absolute yield analysis, and quality control in process.
To maintain high quality in our flash memory production, more than two billion data items are collected every day in real time from manufacturing equipments and transport systems. Complicated factory analyses are performed using such an enormous amount of data.

State-of-the-art semiconductor manufacturing requires highly accurate defect inspection even if the defects are very small. We are developing a new inspection technique utilizing not only conventional image processing but also machine learning.