Kioxia Introduces Industry's First PCIe® 4.0 OCP "NVMe™ Cloud Specification"-Enabled SSD
New KIOXIA XD6 Series E1.S Data Center NVMe™ SSD Optimized for Hyperscale, Open Compute Platform Applications
Tokyo – Kioxia Corporation, the world leader in memory solutions, expanded its broad portfolio of client, enterprise and data center SSDs with the addition of the KIOXIA XD6 Series E1.S form factor SSDs. Kioxia's XD6 Series are the first[1] E1.S SSDs to address the specific requirements of hyperscale applications, including the performance, power and thermal requirements of the Open Compute Platform (OCP)[2] "NVMe™ Cloud SSD Specification". Kioxia's XD6 drives are now sampling to select data center customers.[3]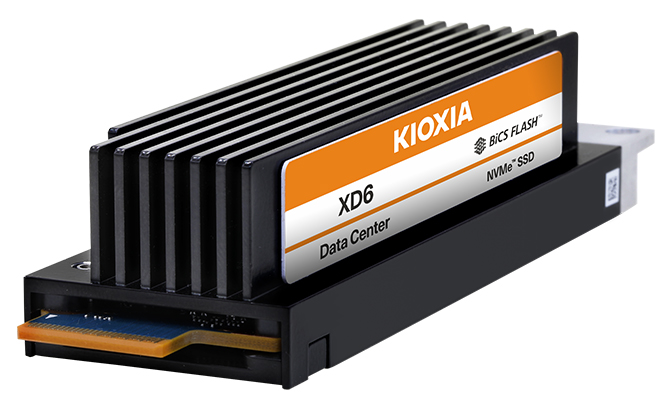 Designed to maximize system density, efficiency and simplicity, Kioxia's EDSFF E1.x SSDs represent the future of flash storage for servers in cloud and hyperscale data centers. Leveraging the OCP "NVMe™ Cloud SSD Specification", the flexible, efficient, small form factor E1.S replaces the bare module M.2 form factor and delivers greater density, performance, reliability and thermal management. E1.S is also designed to be hot pluggable for increased serviceability, which is another benefit over M.2.
PCIe® 4.0 and NVMe™ 1.3c specification-compliant, Kioxia's XD6 Series is available in E1.S 9.5mm, 15mm, and 25mm form factors. The XD6 Series were designed for consistent performance, low latency and reliability in 24x7 cloud data centers.
Sequential read and write performance up to 6,500MB/s and 2,400MB/s respectively
15W power consumption
Security options: TCG Opal[4]
Full end-to-end data path protection
Power loss protection
Expanded drive health information
Consistent performance and low latency against data center loads
New in-house developed, hyperscale-optimized controller
Kioxia is an active and contributing member to the industry development of EDSFF E1.S/L and E3.S/L solutions, and continues to collaborate with leading server and storage system developers to unlock the full power of flash memory, NVMe™ and PCIe®.
Notes
[1] As of November 4, 2020. Kioxia Corporation survey.
[2] Open Compute Project (OCP) is a collaborative community, advocated by Microsoft Corp. and Facebook, Inc., focused on redesigning hardware technology to efficiently support the growing demands on compute infrastructure.
[3] Engineering samples are for OEM customer evaluation. The specifications may differ from those at the time of mass production.
[4] Availability of security/encryption options may vary by region.
PCIe is a registered trademark of PCI-SIG.
NVMe is a trademark of NVM Express, Inc.
Other company names, product names and service names mentioned herein may be trademarks of their respective companies.
Information in this document, including product prices and specifications, content of services and contact information, is correct on the date of the announcement but is subject to change without prior notice.