Toshiba Announces Third Generation of Enterprise SAS SSDs
Delivering the highest random read performance of 270,000 IOPS with 12Gbit/s SAS interface
TOKYO — Toshiba Corporation's (TOKYO: 6502) Semiconductor & Storage Products Company today announced its next generation of enterprise solid state drives (eSSDs) for the PX Series. The new PX04S line features four serial-attached small computer system interface (SCSI) SAS eSSD models well-suited for enterprise applications including: mail servers; database servers; virtualized enterprise file servers; and primary storage in read, write or mixed workload environments. Continuing Toshiba's legacy of quality and reliability, the dual-ported 12Gbit/s[1] SAS PX04S line offers random 4K performance with read IOPS up to 270K and write IOPS up to 145K. This is Toshiba's first 12Gbit/s SAS SSD to deliver 3.84TB[2] of operating capacity. Sample shipment starts from today.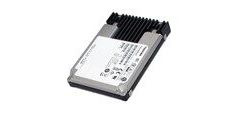 The PX04S line features four eSSD models – PX04SHB, PX04SMB, PX04SVB and PX04SRB – each offering a range of capacities and optimized for different applications and workloads;
High-Endurance: Targeted at applications requiring the highest levels of eSSD performance, reliability and endurance, the PX04SHB supports 25 complete drive writes per day (DWPD[3]) with a one hundred percent random workload and is available in a range of capacities from 200GB to 1.6TB. Write-intensive virtualized data centers, big data analytics and high performance computing (HPC) workloads will benefit from the impressive performance and data integrity afforded by the PX04SHB.
Mid-Endurance: For mixed-use, mission-critical hyperscale and virtualized environments, Toshiba's PX04SMB provides very high levels of predictable performance to optimize system and application performance. The PX04SMB offers 10 DWPD with capacities up to 3.2TB and is suitable for online transaction processing (OLTP) and e-commerce.
Value-Endurance: The PX04SVB is optimized for read-intensive server and storage applications, requiring a balance of reliability, capacity and endurance. Capable of three DWPD with capacities up to 3.84TB, PX04SVB SSDs are suited for read-intensive applications such as media streaming, data warehousing and web servers.
Read-Intensive: Targeted at read-intensive applications requiring one DWPD or less, the PX04SRB delivers features and performance suited for a range of enterprise and web-based workloads like video on demand (VOD) and data warehousing. The PX04SRB is available in capacities up to 3.84TB.
Outline of the New PX04S Family
* Table can be scrolled horizontally.
Series
Max. Capacity
DWPD
Interface
Random Read Performance
Dimensions
PX04SHB Series
1,600GB
25
SAS
12Gbit/s
270kIOPS
2.5-inch form-factor

(W) 69.85mm
(D)100.0mm
(H) 15.0mm
PX04SMB Series
3,200GB
10
PX04SVB Series
3,840GB
3
PX04SRB Series
3,840GB
1
Notes:
[1] Read and write speed may vary depending on the host device, read and write conditions, and file size.
[2] Definition of capacity: Toshiba defines a megabyte (MB) as 1,000,000 bytes, a gigabyte (GB) as 1,000,000,000 bytes and a terabyte (TB) as 1,000,000,000,000 bytes.  A computer operating system, however, reports storage capacity using powers of 2 for the definition of 1GB = 230= 1,073,741,824 bytes and therefore shows less storage capacity.  Available storage capacity (including examples of various media files) will vary based on file size, formatting, settings, software and operating system, such as Microsoft Operating System and/or pre-installed software applications, or media content.  Actual formatted capacity may vary.
[3] DWPD: Drive Write Per Day. One full drive write per day means the drive can be written and re-written to full capacity once a day every day. Actual results may vary due to system configuration, usage and other factors.
Information in this document, including product prices and specifications, content of services and contact information, is correct on the date of the announcement but is subject to change without prior notice.