Toshiba Launches SDHC Memory Card with Embedded Wireless LAN Communications for Developers of Business Products
TOKYO— Toshiba Corporation's (TOKYO: 6502) Semiconductor & Storage Products Company today announced that it will start the sales of SDHC memory cards with embedded wireless LAN communications for third-party solution providers.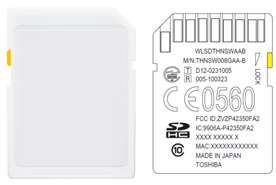 The new product, THNSW008GAA-B(QB6) has the same hardware composition as "FlashAir™", the SDHC memory card with embedded wireless LAN communications, currently available in the consumer market. Since the card itself has embedded wireless LAN and web server functions, its insertion into an SDHC memory card slot adds wireless functions to various devices.
With API (Application Programming Interface) information openly available in the "FlashAir Developers" website, business users can develop their own apps or set up their own configuration to adapt the card for various devices[1]. The card is compliant with the iSDIO standard, making it possible for a host that meets the standard to control its wireless LAN functionality.
There are no labels or marking on the front side in order for solutions providers to freely design the label, while the reverse side is imprinted with the wireless certification information of the USA, Canada, Europe and Japan.
Key Specifications of the New Product
Product Number
THNSW008GAA-B(QB6)
Capacity
8GB (User Area: Approx. 7.2GB)
Speed Class
Class 10
Compliant Standard
SD Memory Card Standard Ver.4.00
iSDIO Standard
Wireless LAN Standard
IEEE802.11 b/g/n
Wireless LAN Security
WEP, TKIP, AES(WPA, WPA2)
External Dimensions
32.0mm(L)×24.0mm(W)×2.1mm(T)
Countries/Territories Where the Card is Certified [2]
Japan, USA, Canada, Taiwan, Hong Kong, Australia, New Zealand, Germany, France, Italy, Belgium, Netherlands, Luxemburg, United Kingdom, Ireland, Denmark, Greece, Spain, Portugal, Austria, Sweden, Finland, Estonia, Latvia, Lithuania, Poland, Czech, Slovakia, Hungary, Slovenia, Malta, Cyprus, Bulgaria, Romania, Switzerland, Norway, Liechtenstein, Iceland, Singapore, India, Indonesia, Philippines, South Korea, Vietnam, South Africa, Russia
Notes:
[1] Although the new product, THNSW008GAA-B(QB6), has the same hardware configuration as "FlashAir™", it cannot use "FlashAir™" apps released by Toshiba. Please visit the "FlashAir™ Developers" website for details of developing apps and services. (https://www.flashair-developers.com/en/)
[2] Please inquire on certification of other countries, territories or regions. To sell the card in countries, territories or regions where use is not certified, solution providers will need to apply for certification.
*FlashAir™ is trademark of Toshiba Corporation.
Follow this link for more on this product.
http://www.semicon.toshiba.co.jp/eng/product/memory/wlan-sdhc/index.html
Follow this link for more on "FlashAir™".
http://www.toshiba.co.jp/p-media/wwsite/flashair.htm
Customer Inquiries
Memory New Business Development Departmentt
Information in this document, including product prices and specifications, content of services and contact information, is correct on the date of the announcement but is subject to change without prior notice.