Toshiba Starts Sample Shipments of Industry's First Embedded NAND Flash Memory Modules Compliant with UFS Ver. 2.0
JEDEC UFS Ver.2.0 standard compliant embedded memories combine up to 64GB NAND and a controller in a single package
TOKYO—Toshiba Corporation's (TOKYO: 6502) Semiconductor & Storage Products Company today announced that it will start from today, sample shipments of 32-gigabyte and 64-gigabyte (GB) embedded NAND flash memory modules compliant with the JEDEC UFS[1] Ver.2.0 standard, the first company in the industry[2] to do so. The modules also integrate 5.8Gbps High-speed MIPI® M-PHY®[3] HS-G3 I/F, which is an optional feature of the UFS Ver. 2.0 standard, and achieve ultra-high performance, including 650MB/s read speed and 180MB/s write speed.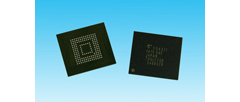 The faster transfer speeds can shorten the time taken to launch many kinds of applications, shoot digital still images, and play and download large data movie and music files on mobile products like smartphones or tablet PCs.
Demand continues to grow for large density, high-performance chips that support high resolution video, driven by improved data-processing speeds in host chipsets and wider bandwidths for wireless connectivity in a wide range of digital consumer products, including smartphones and tablet PCs.
Toshiba has proved itself an innovator in this key area, and is now reinforcing its leadership by being first in the industry to deliver samples with a high performance UFS module.
Toshiba will schedule mass production and add other densities to the line-up in response to market demand.
Part Number
Density
Package
THGLF2G8C4KBADR
32GB
153Ball FBGA
11.5×13×1.0mm
THGLF2G9C8KBADG
64GB
153Ball FBGA
11.5×13×1.2mm
The JEDEC UFS Ver.2.0 compliant interface handles essential functions, including writing block management, error correction and driver software. It simplifies system development, allowing manufacturers to minimize development costs and speed up time to market for new and upgraded products.
The product has ultra-high read/write performance and the maximum transfer rate of this product is up to 11.6Gbps by supporting 2 lane MIPI M-PHY HS-G3 I/F, which is an optional feature of UFS Ver. 2.0.
The new products are sealed in a small FBGA package and have a signal layout compliant with JEDEC UFS Ver.2.0.
Interface
JEDEC UFS Version 2.0 standard
Power Supply Voltage
2.7V to 3.6V (Memory core)
1.70V to 1.95V (Memory interface, etc.)
1.10V to 1.30V (Controller core, UFS I/F signals)
Number of lane
Downstream 2lane / Upstream 2lane
I/F Speed
5.8Gbps/lane
Temperature range
-25degress to +85degrees Celsius
Package
153Ball FBGA
11.5×13×1.0mm (32GB) / 11.5×13×1.2mm (64GB)
Notes:
[1] Universal Flash Storage is a product category for a class of embedded memory products built to the JEDEC UFS standard specification.
[2] For embedded NAND flash memory modules, as of April 25, 2014. Toshiba survey.
[3] MIPI® and M-PHY® are trademarks, servicemarks, registered trademarks, and/or registered servicemarks owned by MIPI Alliance.
Customer Inquiries
Memory Marketing Division
Information in this document, including product prices and specifications, content of services and contact information, is correct on the date of the announcement but is subject to change without prior notice.