Toshiba Launches Client SSDs Using 19nm Second-Generation NAND Process Technology
TOKYO—Toshiba Corporation (TOKYO: 6502) today announced the launch of the "HG6 series" of client SSDs integrating NAND chips fabricated with 19nm second-generation process technology. Shipping will start from March.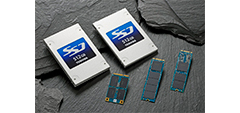 The new HG6 series SSDs are Toshiba's first to use NAND chips fabricated with 19nm second-generation process technology. Versions will be available in capacities from 60GB to 512GB[1], in 2.5-type, thin space-saving mSATA™[2] and M.2 (single- and double-sided) form factors, to meet various requirements.
The new SSDs include a self-encrypting option that is compliant with the Trusted Computing Group's[3] TCG Opal Ver. 2.0. They also incorporate Toshiba's original wipe function, which automatically erases data when an SSD is accessed by an unregistered system.
All models in the series integrate a 6Gbit/s SATA interface and have a maximum sequential read speed of 534MB/s (512GB model). They offer fast booting and application starts, and their low power consumption help to improve battery life in mobile devices. The HG6 series is suitable for notebook PCs, workstations, thin clients, server boot drives and read-intensive enterprise applications.
Outline of the New Products:
* Table can be scrolled horizontally.
Form Factor
2.5-type
9.5 mmH
2.5-type
7.0 mmH
mSATA™
module
M.2 2280
Double-sided
M.2 2280
Single-sided
Model Name
THNSxJyyyGBSU
THNSxJyyyGCSU
THNSxJyyyGMCU
THNSxJyyyG8NU/DNU
THNSxJyyyGVNU
Recording Capacity 
60/128/256/512 GB
128/256 GB
Performance
Sequential Read (max):  534 MB/s(510 MiB/s)[4] (2.5type, 512 GB)
Sequential Write (max): 482 MB/s(460 MiB/s) (2.5type, 512 GB)
If the "x" in the model name is "N", it indicates a standard model, while "F" indicates SED models.
"yyy" indicates capacity.

notes
[1] mSATA™ is a trademark of the Serial ATA International Organization.
[2] Definition of capacity: Toshiba defines a megabyte (MB) as 1,000,000 bytes, a gigabyte (GB) as 1,000,000,000 bytes and a terabyte (TB) as 1,000,000,000,000 bytes. A computer operating system, however, reports storage capacity using powers of 2 for the definition of 1GB = 230 = 1,073,741,824 bytes and therefore shows less storage capacity. Available storage capacity (including examples of various media files) will vary based on file size, formatting, settings, software and operating system, such as Microsoft Operating System and/or pre-installed software applications, or media content. Actual formatted capacity may vary."
[3] The Trusted Computing Group (TCG) is a not-for-profit organization formed to develop, define and promote open, vendor-neutral, global industry standards, supportive of a hardware-based root of trust, for interoperable trusted computing platforms.
[4] 1MiB (mebibyte) = 1,048,576B(220)
Information in this document, including product prices and specifications, content of services and contact information, is correct on the date of the announcement but is subject to change without prior notice.