Toshiba Launches Enterprise Read Intensive SSD with SATA Interface
TOKYO—Toshiba Corporation (TOKYO: 6502) today announced that it will expand its family of enterprise SSD with new models designed to support read intensive applications with SATA interface. The new "HK3R series" will start shipping from the end of this month.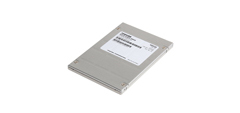 "HK3R series" SSD have a 2.5-inch form factor, implement a 6Gbit/s SATA interface, and will be available in capacities up to 480GB[1]. The drives support one full DWPD[2] and are suited for server and storage systems for online transactions, cloud computing, online gaming and big data analytics, especially where customers are looking for a balance between cost, endurance and performance.
Toshiba has expanded its lineup of enterprise SSD products with the new enterprise read intensive "HK3R series" with SATA interface, in addition to the "PX series", which uses SAS interface. The wide line-up of durability level and interface type makes it possible for customers to select products best suited to their system designs.
Model Name
Recording Capacity
NAND Type
Outer Dimension
DWPD
THNSNJ480PCS3
480GB
19nm MLC
(W) 69.85mm
(D) 100.0mm
(H) 7.0mm
Once
THNSNJ240PCS3
240GB
THNSNJ120PCS3
120GB
Notes:
[1] One gigabyte (GB) = 1,000,000,000 (109) byte.
[2] DWPD: Drive Write Per Day. One full drive write per day means the drive can be written and re-written to full capacity once a day every day for five years, the stated product warranty period. Actual results may vary due to system configuration, usage and other factors.
Follow this link for more on this product.
http://www.semicon.toshiba.co.jp/eng/product/storage/built-in/enterprise_ssd/index.html
Customer Inquiries
Storage Products Division
Information in this document, including product prices and specifications, content of services and contact information, is correct on the date of the announcement but is subject to change without prior notice.