Toshiba Begins Sample Shipment of Mission Critical 1.6TB Large Capacity Enterprise SSDs
TOKYO- Toshiba Corporation (TOKYO: 6502) today announced that it will start sample shipments of its enterprise SSD (eSSD) "PX02SM" series, including "PX02SMB160", which has a 1.6TB capacity, the largest-class [1] of storage capacity in the market, in July.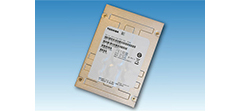 Targeted at applications requiring the highest levels of eSSD performance, the PX02SM series is Toshiba's first eSSD to utilize eMLC (enterprise multi-level cell) NAND technology, with capacities of 200, 400, 800GB[2] and 1.6TB[2], and is Toshiba's first offering with a dual-port 12Gb/sec SAS interface with a form-factor equivalent to industry-standard 2.5-inch HDDs. With 900MB/s of sequential read speed and a random read speed of 120kIOPS [3], the PX02SM SSD series can expand the data transfer capabilities of high-end servers and tiered high-end storage systems.
The PX02SM series features Toshiba's original QSBC[4] error correction technology, which includes multiple error correction circuits that can select the most efficient error correction operation for different level errors.
The flagship 1.6TB model will be showcased during COMPUTEX at the Marvell suite, T101C, located on the first floor of the Taipei International Convention Center, June 4-8.
Outline of the New Products
Part Number
Capacity
Application
PX02SMB160
1.6TB
High-performance server and storage systems
PX02SMF080
800GB
PX02SMF040
400GB
PX02SMF020
200GB
Notes:
[1] As of June 3, 2013, for 2.5type enterprise SSD using SATA/SAS interface. Source: Toshiba
[2] One terabyte (1 TB) is 1012 =1,000,000,000,000 bytes.
One Gigabyte (1 GB) is 109 =1,000,000,000 bytes.
[3] 4K random read/write I/O performance.
[4] QSBC: .Quadruple Swing-By Code. QSBC is a trademark of Toshiba.
Follow this link for more on this product.
http://www.semicon.toshiba.co.jp/eng/product/storage/built-in/enterprise_ssd/index.html
Customer Inquiries
Storage Products Division
Information in this document, including product prices and specifications, content of services and contact information, is correct on the date of the announcement but is subject to change without prior notice.