Toshiba Announces Cryptographic-erase and Self-encryption Features for New Enterprise SSD and Mobile HDD
New security features to help companies better manage sensitive information in datacenters, cloud computing and client computing applications
TOKYO- Toshiba Corporation (TOKYO: 6502) today announced new enterprise SAS solid state drives (SSD), mobile SATA hard disk drives (HDD), including self-encrypting drive (SED) models in both product categories, and new enterprise-grade SATA SSD supporting cryptographic-erase. Select drives will start to ship in January with other models following later in the first quarter.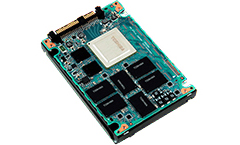 PX02SMQ and PX02SMU series enterprise SED (eSED) deliver government-grade Advanced Encryption Standard (AES) 256-bit self-encryption and offer Trusted Computing Group (TCG) Enterprise SSC protocol self-encryption and cryptographic-erase support. These high-performance, 2.5 inch enterprise models with SAS interface, target high-end servers and data center applications and provide capacities ranging up to 1.6TB[1].
The PX02AMU value line of SATA eSSD models and the PX03ANU read-intensive line of SATA eSSD models, both for enterprise applications, feature cryptographic- erase for fast and secure media sanitization.
For mobile computing, the MQ01ABU***W series provides self-encryption, cryptographic-erase and TCG-Opal SSC protocol support in a slim 7mm height with up to 500GB[1] of storage capacity. The MQ01ABU***W series also supports Toshiba's innovative Wipe technology, which adds security features that allows system designers to automatically cryptographic-erase sensitive user data if an unexpected host attempts to access the HDDs or if a defined number of authentication failures occurs.
Toshiba is also working on FIPS 140-2 certification[2] for select SED products to meet government-class security requirements.
Notes:
[1] One terabyte (1 TB) is 1012 =1,000,000,000,000 bytes. One Gigabyte (1 GB) is 109 =1,000,000,000 bytes.
[2] FIPS 140-2, Federal Information Processing Standards 140-2 is a U.S. government computer security standard used to certify cryptographic modules.
Model name
SSD/
HDD
Recording Capacity
Height
Interface
Suitable application
Security
PX02SMQ160
SSD
1.6TB
15mm
SAS
High-end server, Data center
·SED(TCG-Enterprise SSC)
·Cryptographic-erase (Sanitize)
PX02SMU080
800GB
7mm
PX02SMU040
400GB
PX02SMU020
200GB
PX02AMU040
SSD
400GB
7mm
SATA
Entry server, Middle-range server

 

·Cryptographic-erase (Sanitize)
PX02AMU020
200GB
PX02AMU010
100GB
PX03ANU048
SSD
480GB
7mm
SATA
Read-intensive for entry server
·Cryptographic-erase (Sanitize)
PX03ANU024
240GB
PX03ANU012
120GB
PX03ANU505
55GB
MQ01ABU050W
HDD
500GB
7mm
SATA
Mobile PC, MFP, POS
·SED (TCG-OPAL SSC)
·Cryptographic-erase (Sanitize)
·Wipe technology
MQ01ABU032W
320GB
MQ01ABU025W
250GB
Follow this link for more on this product.
http://www.semicon.toshiba.co.jp/eng/product/storage/built-in/enterprise_ssd/
Information in this document, including product prices and specifications, content of services and contact information, is correct on the date of the announcement but is subject to change without prior notice.