Toshiba Memory Corporation Appoints Stacy J. Smith as Executive Chairman
Toshiba Memory Corporation
October 11, 2018 – TOKYO –  Toshiba Memory Corporation (TMC) today announced the appointment of Stacy J. Smith as Executive Chairman, effective on October 1, 2018.
Smith brings a long and proven track record of executive leadership to TMC. He has extensive international experience, having both lived and led organizations in the Asia-Pacific, Latin America, Europe, the Middle East and Africa. He will work closely with CEO Yasuo Naruke to provide overall leadership to the business.
Smith previously spent three decades at Intel leading organizations across multiple disciplines. In his role as President, Manufacturing, Operations and Sales, from 2016 to 2018, he led 40,000 employees involved in worldwide manufacturing, technology development, supply chain, pricing and sales. He also served as Intel's Chief Financial Officer for almost a decade and in this role also had responsibility for corporate strategy, M&A, and Intel Capital.  Prior to that he served as Intel's Chief Information Officer and Vice President for Sales for Europe, the Middle East and Africa.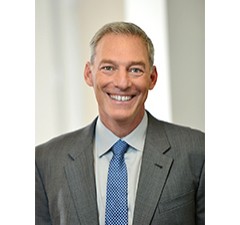 Smith also brings strong board leadership experience. He currently serves as board chairman at Autodesk and as a director for Metromile. He served previously as a director for Virgin America and for GEVO. He also serves on the Board of Trustees for The Nature Conservancy of California and on the University of Texas McCombs School of Business Advisory Board. Smith attended The University of Texas at Austin, where he received his MBA in 1988 and his BBA in 1985.
"We are thrilled that Stacy is joining Toshiba Memory Corporation in this crucial leadership role at an important time in the company's history," said Yasuo Naruke, President and CEO of TMC. "With Stacy's wealth of international leadership experience and knowledge of the semiconductor space, there is no doubt he is the perfect person to help lead our company in the next phase of growth as an independent company."
"I am excited to take on this important challenge, and honored to join the TMC team," said Smith. "Toshiba invented flash memory, and with TMC now operating as an independent company with increased capacity to invest in developing and growing semiconductor technology, the company has a strong growth trajectory ahead of it."
Smith's hiring follows the acquisition this year of TMC by an industry consortium led by Bain Capital Private Equity. Bain Capital Private Equity has a long history of successful investments in Japan including Skylark, Jupiter Shop Channel, BellSystem24, Domino's Pizza Japan, Ooedo Onsen, and Asatsu-DK. The firm's deep market knowledge, extensive local networks and expertise in driving operational improvement strategies have made Bain Capital a valued partner for Japanese companies.
"Stacy is the right leader to help TMC, already a technology leader in the flash memory industry, achieve its potential as an independent company," said David Gross-Loh, a director of TMC and a managing director and co-head of Asia for Bain Capital Private Equity. "We are very pleased to welcome Stacy to TMC and look forward to working closely with him and the expanded management team."