Kioxia Announces 2nd Generation 24G SAS SSD, With a Focus on Performance and Security
PM7 Series Leverages Latest BiCS FLASH™ Technology and Security Module Validated by the FIPS 140-2 Cryptographic Module Validation Program
July 6, 2022: Revised the description of security features.
Tokyo – Kioxia Corporation today announced that its KIOXIA PM7 Series of enterprise SAS SSDs are now available for customer evaluation. Targeted at enterprise applications and use cases – including high-performance computing, artificial intelligence, caching layer, and financial trading and analysis – the new drives bring improved performance, reliability and security to enterprise servers and storage. With an emphasis on security, the PM7 Series utilizes a security module which is validated by the FIPS 140-2 Cryptographic Module Validation Program, and currently under the test for FIPS 140-3 validation[1].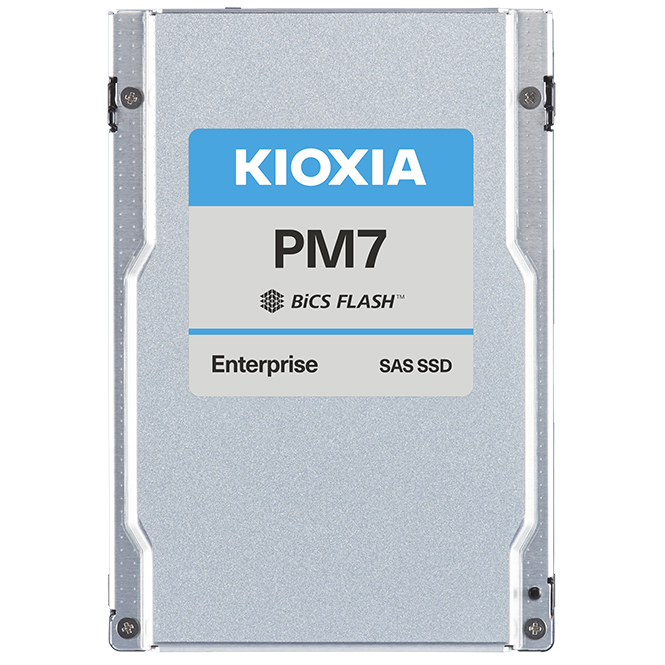 Designed for modern IT infrastructures, 24G SAS (SAS-4) doubles effective bandwidth over 12Gb/s SAS (SAS-3). Featuring Kioxia's 5th generation BiCS FLASH™ 3D flash memory, the PM7 Series delivers sequential read performance of up to 4.2Gigabytes (GB) per second (GB/s) and 720K random read IOPS, achieving approximately 20% performance improvement over the previous generation KIOXIA PM6 Series. The new Kioxia drives are available in capacities up to 30.72terabytes (TB), making them the industry's highest capacity[2] 2.5-inch [3] SAS SSD.
Additional features include:
Dual-port to support redundancy for storage systems that require high reliability.
Flash Die Failure Protection – a Kioxia feature that allows for transparent disabling of a failing flash chip, while maintaining full reliability at the SSD level.
Endurances for a wide range of workloads; read-intensive (1DWPD) and mixed-use (3DWPD).
Security options available[1]; sanitize instant erase (SIE), TCG Enterprise self-encrypting drive (SED) and SED with an additional security option that utilizes a security module validated by the FIPS 140-2 Cryptographic Module Validation Program. FIPS 140-3 validation for the security module is also in process and is expected to be completed in 2022.
Kioxia is an active member of the T10 and SCSI Trade Association industry groups that head up and define SAS development efforts, driving innovation and development of the SAS interface.
Notes
[1] Availability of security/encryption options may vary by region.
[2] Based on a Kioxia market survey of publicly available information, as of March 8, 2022. 1DWPD models will be available in capacities of 1.92TB to 30.72TB, while the 3DWPD models will be available in 1.6TB to 12.8TB.
[3] "2.5-inch" indicates the form factor of the SSD. It does not indicate the drive's physical size.
Definition of capacity: Kioxia defines a megabyte (MB) as 1,000,000 bytes, a gigabyte (GB) as 1,000,000,000 bytes and a terabyte (TB) as 1,000,000,000,000 bytes. A computer operating system, however, reports storage capacity using powers of 2 for the definition of 1GB = 230 = 1,073,741,824 bytes and therefore shows less storage capacity. Available storage capacity (including examples of various media files) will vary based on file size, formatting, settings, software and operating system, such as Microsoft Operating System and/or pre-installed software applications, or media content. Actual formatted capacity may vary.
The sample drives are for evaluation purposes. The specifications of the sample drives may differ from the production drive models.
Read and write speeds are the best values obtained in a specific test environment at Kioxia Corporation and Kioxia Corporation warrant neither read nor write speeds in individual devices. Read and write speed may vary depending on the device used and file size read or written.
All company names, product names and service names may be trademarks of their respective companies.
Information in this document, including product prices and specifications, content of services and contact information, is correct on the date of the announcement but is subject to change without prior notice.