Toshiba Unveils First Demonstration System to Support Version 1.1 of Universal Flash Storage (UFS) Specification
New Toshiba development and testing 'ecosystem' speeds prototyping and testing of applications requiring high-speed, low-power protocols as specified by MIPI® UniPro(SM) and M-PHY(SM)
Toshiba today provided further evidence of its commitment to next-generation applications built using the MIPI® UniPro(SM) and M-PHY(SM) specifications by announcing the world's first demonstration system to support the JEDEC UFS version 1.1 standard.
Unveiled at the All-Members meeting of the MIPI® Alliance in Berlin, the Toshiba demonstration is a complete testing environment for next-generation memory solutions built around the latest UFS specification. Toshiba's comprehensive UFS 'ecosystem' brings together a UFS memory device, UFS host controller IP and UFS software drivers. The result is a prototyping and testing system that will speed up UFS designs, enable interoperability and ensure smooth integration with host processors.
New and emerging mobile devices demand higher performances with lower power consumption and reduced pin-counts for embedded flash memory storage. To support these demands designers need to provide performance at much lower energy-per-bit ratios and enable multi task OS support. To help designers address these challenges Toshiba has played a leading role in the specification and design of dual-simplex serial interfaces based on MIPI® UniPro(SM) and M-PHY(SM). The company's latest implementation of such an interface uses the upcoming MIPI UniPro version 1.41 and MIPI M-PHY version 2.0 Specifications. In addition Toshiba has established a full eco-system of device and host controllers - as well as IP for key building blocks - that provides the market with a complete environment that supports development, inter-operability and deployment using the new interface standards.
Toshiba has been actively involved in UFS since its inception and has made significant contributions to the development of JEDEC standard as it relates to both the UFS memory device and the host controller. As an active Promoter Member of the MIPI Alliance the company has also played a major role in developing and supporting the M-PHY(SM) interface and UniPro(SM) universal chip-to-chip protocol that form the basis of the UFS interconnect layer.
* MIPI® is a registered mark of MIPI Alliance, Inc. Other service marks and trade names are those of their respective owners.
Toshiba UFS IOT Testing Environment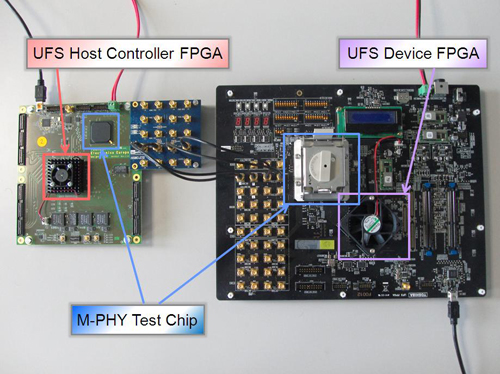 General UFS System Architecture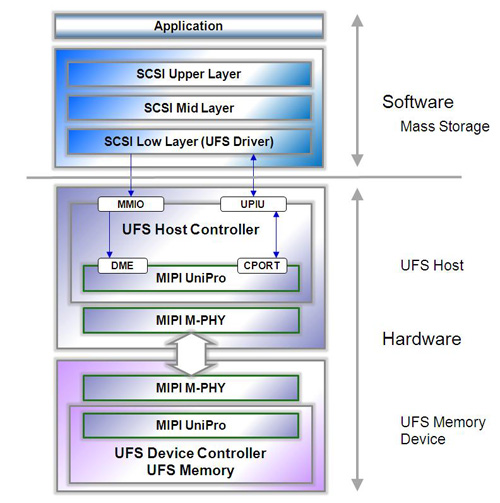 Information in this document, including product prices and specifications, content of services and contact information, is correct on the date of the announcement but is subject to change without prior notice.