The real thrill of development: Conquering the world with new technology.
Expertise: Flash memory development
"Converting an idea into technology, and putting it into devices to create a market"
Discussion on the memory created through the combination of the best technologies by development leaders who have continued to take on the challenges for the introduction of new technology globally
Watch the video (YouTube) here
Interview video: The real thrill of development: Conquering the world with new technology.
As a Fellow, I am currently overseeing the development of 3D flash memory BiCS FLASH™. Flash memory is a memory that does not lose information even when the electricity is turned off. Although we've been miniaturizing it for a long time, at one point, we thought, "This will not go any smaller." So, we stacked them up like a skyscraper instead. We call this vertically stacked memory "3D flash memory".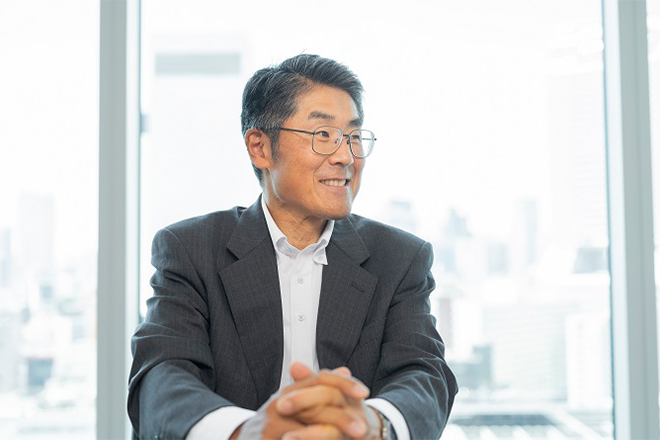 The development of a flash memory called "43-nanometer". We managed to mass-produce the world's first High-k dielectric film to be used in flash memory. Such new technology is indispensable if we want to be at the forefront of memory development. We need to be sensible and use new technology well. To do so, we have to make apt judgements at every critical point.
The real thrill of product development
You can bring your ideas in a technological form to the device.It may or may not be visible from the outside. But even if I can't see it, I secretly think, "This part contains my technology," and it's inside many products out there. As an engineer, I think it's equally fun and gratifying.
There are many manufacturers of flash memory now, but KIOXIA invented flash memory and three-dimensional flash memory. There is something in KIOXIA that allows us to develop and incorporate such new technologies ourselves. It's truly a blessing for a development engineer to be able to incorporate your ideas into products that will go on the market.
Contribution to the world 10 years from now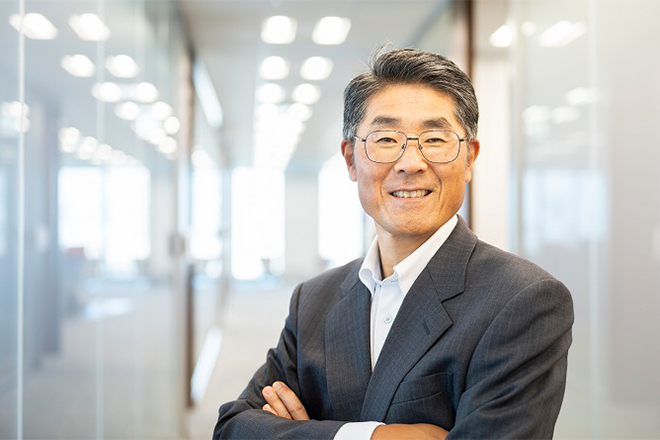 I think it is our mission to be the pioneer in developing large-capacity and low-priced memory. Flash memory has a cell area per bit. Up until now, it has been reduced to about 4 digits in magnitude. There is no other device in the world that the size is reduced to 4 digits smaller. Nowadays, everyone can bring in various information effortlessly with flash memory since both size and price are reduced to 4 digits smaller. By miniaturizing flash memory with such technology, I'd like to keep our contribution to society by increasing capacity and lowering costs.
Hiroaki Hazama, Fellow, Institute of Memory Technology Research & Development
1985: Completed Electronic Engineering Major (Master's Degree), Graduate School of Engineering, Osaka University
1985: Joined Toshiba Corporation, assigned to ULSI Research Laboratory, Research & Development Center
2007: Group Manager, Advanced Memory Device Development Dept., Advanced Memory Development Center, Toshiba Corporation
2008: Senior Manager, Advanced Memory Device Development Dept., Advanced Memory Development Center, Toshiba Corporation
2011: Chief Specialist, Memory Device Development, File Memory Device Engineering Department, Memory Division, Toshiba Corporation
2017: Senior Fellow, Memory Division, Toshiba Memory Corporation
2019: Fellow, Memory Division, KIOXIA Corporation
1994 - 2002: Clarification of the mechanism of memory cell reliability deterioration and development of high reliability cells
2002 - 2007: Led the development of 90 nm, 70 nm, 56 nm and 43 nm NAND flash memory
2007 - 2011: Led the development of 56 nm, 43 nm, 32 nm, 24 nm and 19 nm NAND flash memory
March 1995: IEEE International Conference on Microelectronics Test Structures Best Paper Award
The content and profile are current as of the time of the interview (June 2021.)
Related technology topics
Read further Fellow interviews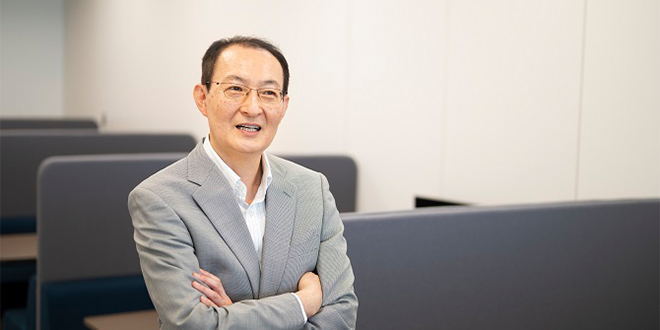 Expertise: Devices and processes
Discussion on the interest in conducting fundamental research at a company, and on contributing to society through semiconductor devices and processes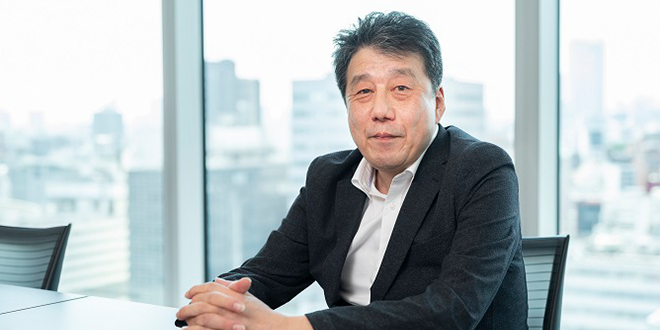 Expertise: Memory systems
Discussion on the innovation in memory systems that is required to keep winning in the market in the ever-advancing world of computers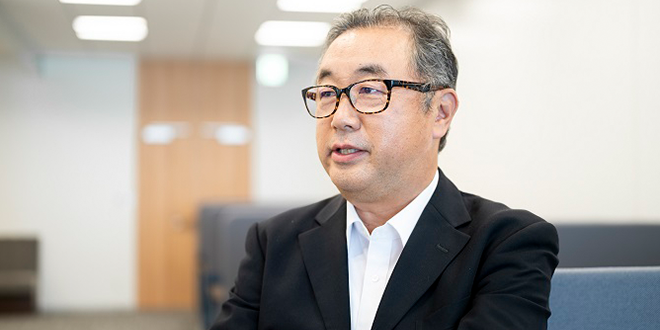 Expertise: TCAD simulation
The creation of a digital twin in the semiconductor field will provide new value and excitement to society.